Each time you turn on your PC if you start hearing the noisy loud sound of the CPU or case fan. Especially if you're in the middle of an action game and the computer fan goes haywire. Then you should definitely download PC fan control software on your Windows PC.
The PC fan controller software are the best utilities to change the PC fan speed manually. The fan control software not only lets you adjust your CPU fan speed but also has the ability to monitor CPU temperature, warn in case of high temperature, and overclocking capabilities.
Our earlier post explained that you can control only DC or PWM fans because they are connected with motherboards. (Read an article: How to Manually Increase Fan Speed On PC).
If you have that type of CPU fan or a Case fan and you are looking for the best PC fan control software. Then we have prepared a list of free tools to help you gain more control over your computer fans.
Why My PC Fans Are So Loud and How To Keep Them Silent?
PC hardware generates a great amount of heat while performing serious tasks. Especially when you play high-end graphics games or edit videos, the CPU and GPU begin to heat up. The HEAT is an enemy of computer hardware.
So, the fans automatically increase their RPM to expel hot air outside of the PC. It can even cause the PC fans to accelerate to an extreme level causing loud noisy Whirrrrl sound. The constant circulation of cool air helps the PC to maintain the ideal CPU temp. The fans don't start spinning on their own rather there are sensors embedded on the motherboard that inform the PC fan to run when a certain level of temperature increases.
If your PC fans are always running fast and loud then it may be a problem of dust or a broken fan. Open the side panel and use a blower to blow out any dust or debris accumulated inside.
To check which fan is causing a loud noise carefully press the center of the CPU or GPU fan to slow it down. Don't jam a pen in the blades it could cause fins to snap off. Stopping each fan, in turn, will give you an audible indication of how much that fan is contributing to the overall noise.
Best Fan Control Software For Windows To Take Control Over CPU Fans and Case Fans
The programs listed in this post can control CPU fans, GPU fans, and case fans on desktop PC. Some modern laptops fans also have the ability to be controlled manually via fan controller software.
1. SpeedFan – Best CPU Fan Control Software
Starting with the SpeedFan utility which is the most famous one and has the best fan control options for Windows 10 PC. With this tool, not only you can manually change CPU fan speed but you can also monitor the CPU temperature of each core, GPU temperature, and PC Voltage.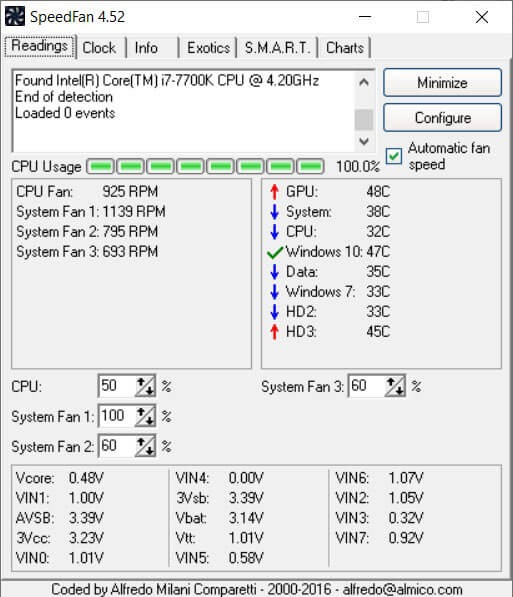 This tool can access S.M.A.R.T and DTS (Thermal Digital Sensors) that help you monitor Hard Disk Drive temperature.
Controlling the fan speed is very easy but before you download SpeedFan take a look at the list of supported motherboards. The Speedfan has two options for its uses either let it automatically control fan speed or you manually change the CPU fan speed.
Either way, you have to do some tweaking to actually let this fan control software change fan speed. That is click on Configure button and go to the advance tab. Choose the motherboard chip and once you see the fan choose to control manually.
In some cases, if the SpeedFan is not showing fans or CPU temps read our post to fix this issue. Overall the SpeedFan is the perfect program to reduces fan noise when watching movies, playing games, or working.
2. MSI Afterburner – Best GPU Fan Controller App
If you only need to download a fan controller software that can precisely control GPU fans then MSI Afterburner is the best option. This tool was built to overclock GPU and run benchmarking tests but now it is most widely used to check CPU temp, GPU temp, control fan speed, and voltage, etc.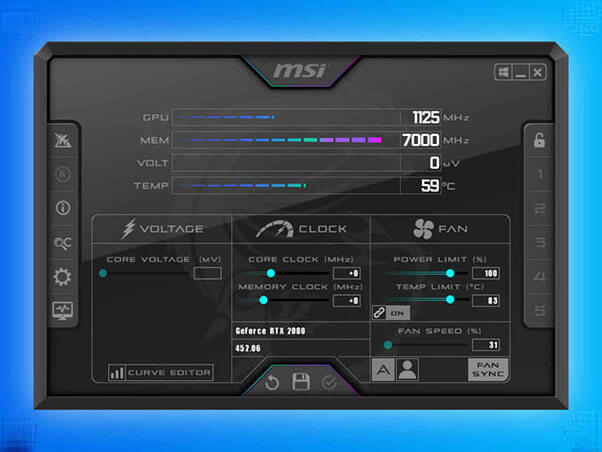 This is the best MSI fan control software that can be used by novices and experts equally. You can easily set a custom fan curve that will automatically increase the fan RPM when PC temperature increases.
This tool also monitors FPS (frame per second) while playing games so you won't need to download additional FPS counter tools.
3. Argus Monitor – Fan Control and System Monitoring Tool
Argus monitor is another best PC fan speed controller software for Windows 10 PC. You can control all the fans that are connected to supported hardware.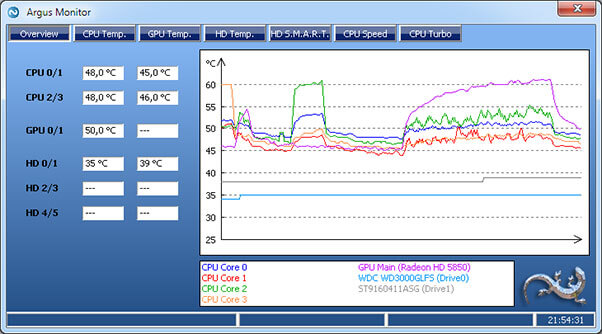 Be it a fan connected to your motherboard or have an AIO cooling solution. You can easily adjust fan speed using fixed values or configure a control curve to control fan speed based on CPU temperature value.
Apart from controlling fan speed, Argus Monitor can access data using sensors placed on the motherboard and show you accurate readings on CPU temp, GPU temp, HDD temp. This fan control software can control each PC fan separately. You're can also select multiple input factors for your PWM fan curves to counter PC overheating.
Another feature that will help in case your PC overheats is that Argus Monitor has warning signs. In case your PC hardware or any driver starts failing this tool warns you so that you can either replace that part or transfer your data.
4. Gigabyte EasyTune 5 – Smart Fan Control Utility
If you need software that can control CPU fan, Case fan, HDD fan, or laptop fan then you should download EasyTune 5 in your Windows 10. This PC fan control software can manage all of them individually.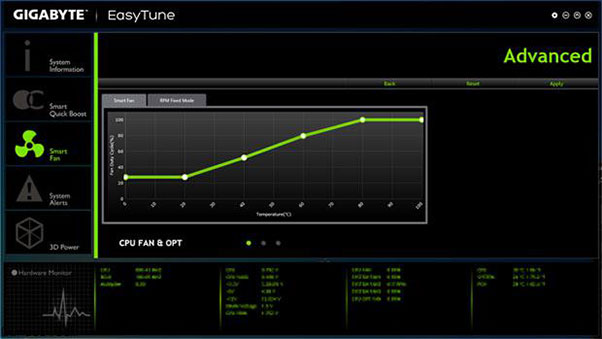 Although the EasyTune 5 is an overclock utility for Windows PC it has more features to offer. Not only you can control the PC fan speed manually but you can also monitor CPU, GPU, and HDD temperature.
The most amazing feature is its SmartFan Control. This feature gives you more control over your CPU cooler. You have different Modes to select each Mode to determine the Fan RPM so as to prevent the computer from overheating.
With EasyTune 5 you can choose to increase fan speed according to CPU temperature. Just set a threshold at 60C and when CPU temp reaches that limit the fans automatically turn on.
As an overclocking utility, EasyTune 5 is of great assistance. This tool uses CPU Intelligent Accelerator (C.I.A.) and Memory Intelligent Booster 2 (MIB2) to enhance CPU and Memory to more power.
5. iCUE – A Unified Utility to Control Corsair Product
Another best PC fan speed controller software for Corsair enthusiasts. This tool is the best Corsair hardware component controller which is a combination of Corsair Link 4 and CUE. The iCUE connects all the Corsair components while streamlining their management. iCUE is an all-in-one PC customization tool that can also monitor your PC's performance. It also has cool RGB lighting controls.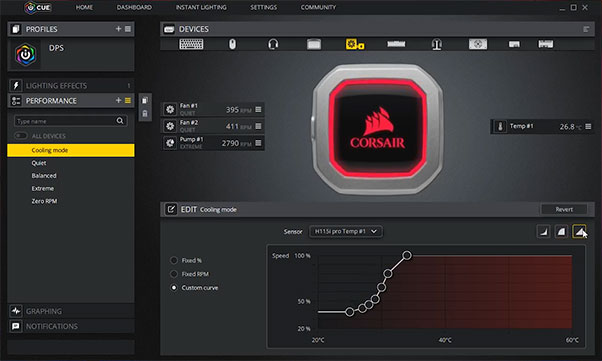 The only downfall is its brand specification if you have a Corsair PC Case, CPU Cooler, Keyboard then you should download iCUE on your Windows PC. But if you don't have Corsair hardware then you may find this software useless.
The iCUE's latest version displays a variety of information that you can easily control or adjust according to your likening. You can monitor CPU temperature, GPU temperature, Memory usage, control fan speed.
With this tool, you can easily control Case fans, CPU fans, Liquid Cooler fans, HDD fans separately. You can easily adjust fan and pump speeds to cool down and optimize your PC's performance.
6. ZOTAC FireStorm – GPU tweaking Tool To Control Fan Speed
If you have GeForce RTX 30, GeForce RTX 20 Series, GTX 16 Series, GTX 10 Series, or GT Series graphics card installed in your PC. Then you should download ZOTAC Firestorm on your Windows PC to change the PC fan speed manually.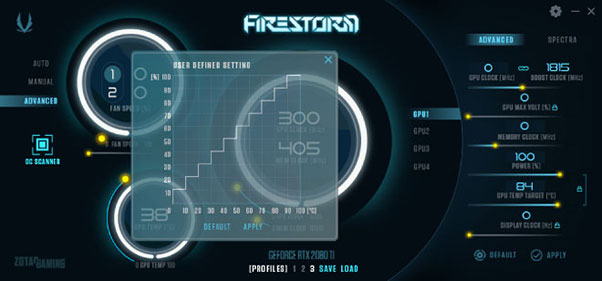 Although ZOTAC FireStorm is an overclocking utility it can easily control CPU and GPU fan speed, monitor CPU and GPU temperature, Clock speed, and many more. It doesn't matter if you are a novice or expert this fan speed controller software can boost the overall performance of your PC internal hardware.